CRXCONEC in COMTECH India 2020
---
24 Nov, 2020
COMTECH India, an online trade show for Computing & Smart City, focuses on network communication, security monitoring, virtual reality, smart transportation, and artificial intelligence. In these years, the Indian government promotes digital transformation, smart cities, and Indian manufacturing projects to create more opportunities.
To provide the superior product on infrastructures cabling, Crxconec attended COMTECH India 2020 to meet the international buyers including IT infrastructure integrators and other types of IoT practitioners, and discuss cabling trends together.
Cat.8 GHMT Solution
Since the construction of Smart City and IoT development must rely on good infrastructure to handle rapid growth of mobile data traffic, we recommend using Cat.8 cabling products in the data center and commercial buildings. Cat.8 has a higher transmission frequency than Cat.6a cabling, and it can respond to the future demand for data transmission.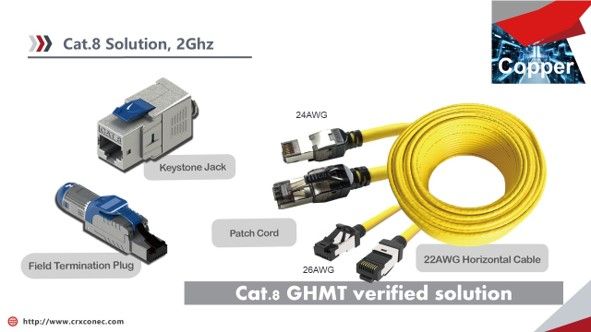 In the following file, we listed several products that can be applied in the wiring environment. If you have any questions about the product information, contact us now!
File Download

Related Products

PN.CC-01-90001

The NEW cat 8 RJ45 Field Termination Plug for telecom application brings you a new prospect of a high transmission speed of 40G. Our cat.8 toolless RJ45...

Details

The single mode LC to LC patch cord with reverse-polarity design allows 3 second quick change polarity without the fibers exposed. The LC LC patch cord...

Details

The OM3 LC-LC fiber patch cable is designed to eliminate the changing polarity in labour which allows you 3-second reverse polarity without exposing fibers....

Details
Catalogue
Complete Cabling Solution

Download
CRXCONEC in COMTECH India 2020 | End-To-End Copper & Fiber Solutions Provider and Manufacturer | CRXCONEC
Based in Taiwan since 1985, Crxconec Company Ltd. has been a versatile end-to-end copper and fiber solutions provider. Their main high-performance network cabling solutions include, structured cabling, keystone jacks, patch cords, modular connectors and fiber cabling that are either UL certified and or ETL/ Delta/ GHMT verified.
CRXCONEC with more than 30 years of structured cabling manufacturing experience, specializing in custom RJ45 keystone jacks, Ethernet cables, fiber optic cables, fiber patch panels and other cabling products. Fast to assist you in branding end-to-end copper and fiber cabling solutions. Crxconec always have best solutions for you. The copper offerings comprise shielded and un-shielded cables, patch panel, keystone jack, patch cord and accessories. Fiber solutions include cables, patch cord, patch panel, accessories for indoor and outdoor applications.
CRXCONEC has been providing customers with high-quality network cabling solutions, with both advanced technology and 35 years of experience, CRXCONEC ensures that each customer's requirements are met.
View our quality products
Lan Cable
,
Termination Plug
,
Modular Plug
,
Keystone Jack
,
Patch Cord
,
Coupler
,
Cable Glands
,
Keystone Panel
,
Crimping Tool
,
Termination Tool
,
Optic Panel
,
Trunk Cable
,
Fiber Optic Adaptor
,
Breakout Cable
,
MTP MPO
and feel free to
Contact Us
.