What is a Cat8 Ethernet Cable and the Application?
---
05 Sep, 2023
Category 8 cable, the standard for next-generation twisted-pair cabling specifications, will allow you to transport data up to four times faster than Category 6A cabling already being used. It is an Ethernet cable which differs greatly from the previous cables in that it supports a frequency of up to 2 GHz, and is limited to a 30-meter 2-connector channel. As you can expect CAT 8 provides better frequency characteristics, therefore supporting higher speeds of data. While Cat8 cable requires shielded cabling as well.
Also, for now, Cat 8 cabling systems will be limited to the access layer in data center networks. For data center managers, Cat 8 offers some huge benefits. When planning for networks greater than 10 Gb/s in the access layer, the decision of which cable type to use largely depends on the network topology you prefer: Top-of-Rack (ToR), End-of-Row (EoR), or Middle-ofRow (MoR). Cat 8 will be able to support all of these topologies. Cat.8 wiring scheme will be mainly used in the data center. So when building a new data center, it is recommended to use CAT.8 structured cabling to meet updates and higher bandwidth in the future.
The Category 8 Standard from ANSI/TIA 568.2-D
The Category 8 is the same cabling system as prior categories; it is simply made to perform at the much higher bandwidth. Compare to other categories you can expect CAT 8 to provide better frequency characteristics, therefore supporting higher speeds of data. Cat8 can also support 25Gbps/40Gbs speeds. The physical appearance of CAT 8 cable is similar to lower category cables and still terminated in RJ45 connections. For comparing different category Cabling Standards, we can see the table below.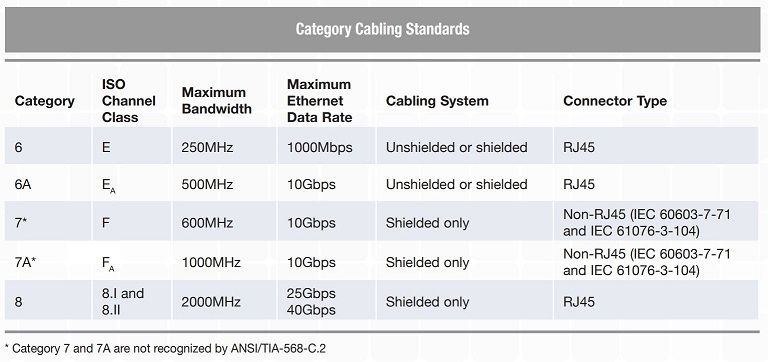 Category 8 Application
In Category 8, We also have 22AWG cable which meets POE and suitable for far distance 4k audio transmission. Most importantly, Category 8 will provide faster data transmission-up to four times than Category 6A. Another good reason to apply Category 8 cable is cost savings. Twisted pair copper cabling has always been the most cost-effective way to deploy a given Ethernet speed due to the low cost of the copper channel.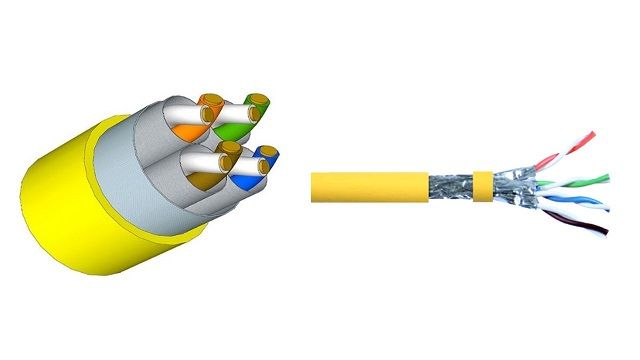 Category 8 Channel Configuration
The STP keystone jack has extreme performance for edge data centers, it can support 40Gbps and 25Gbps up to 30 meters from switch to servers. Crxconec provide the Cat.8 stranded patch cord with 24AWG or 26AWG cable, and solid patch cord with S/FTP 22AWG assemblied with CAT.8 Field plugs to work with the Category 8 channel applications. Also the Cat.8 S/FTP 22AWG solid wire cable to pass the Fluke Cat.8 channel test with the maximum length 24 meters. With the tool free field termination plug, it can be applied to the transmission of audio and video applications.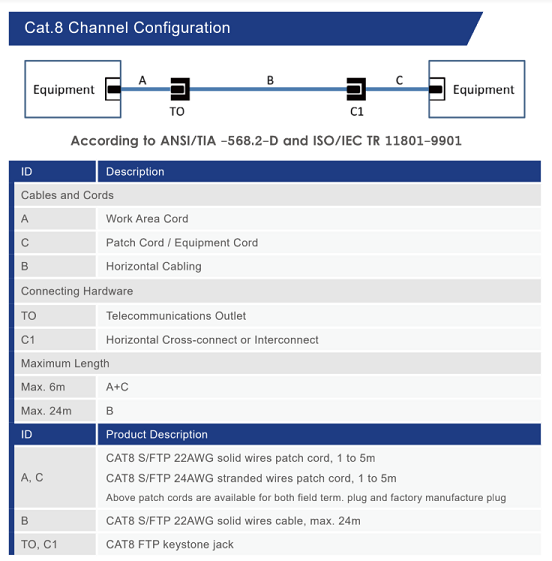 Movies

File Download

Launched the latest GHMT verified Cat.8 cabling series products to support the advanced data center cabling.

Download

Related Solutions

A whole series product from Cat.8 keystone jack , Cat.8 field termination plug, Cat.8 patch cord, and Cat.8 horizontal cable. Cat.8 is a shielded solution,...

Related Products

PN.CC-01-90001

The NEW cat 8 RJ45 Field Termination Plug for telecom application brings you a new prospect of a high transmission speed of 40G. Our cat.8 toolless RJ45...

Details

PN.CC-04-00031

GHMT verified Category 8 keystone jacks support the high frequency up to 2GHz, it is 4 times the bandwidth compared with category 6A. The cat8 network...

Details

PN.80-SS-YL-0305-02-03

The PRIME Cat.8 Lan Cable supports 40Gps data transmission speed and bandwidth up to 2000 MHz, applied in video, data, PoE, and other at high-speed applications...

Details
Catalogue
Complete Cabling Solution

Download
What is a Cat8 Ethernet Cable and the Application? | End-To-End Copper & Fiber Solutions Provider and Manufacturer | CRXCONEC
Based in Taiwan since 1985, Crxconec Company Ltd. has been a versatile end-to-end copper and fiber solutions provider. Their main high-performance network cabling solutions include, structured cabling, keystone jacks, patch cords, modular connectors and fiber cabling that are either UL certified and or ETL/ Delta/ GHMT verified.
CRXCONEC with more than 30 years of structured cabling manufacturing experience, specializing in custom RJ45 keystone jacks, Ethernet cables, fiber optic cables, fiber patch panels and other cabling products. Fast to assist you in branding end-to-end copper and fiber cabling solutions. Crxconec always have best solutions for you. The copper offerings comprise shielded and un-shielded cables, patch panel, keystone jack, patch cord and accessories. Fiber solutions include cables, patch cord, patch panel, accessories for indoor and outdoor applications.
CRXCONEC has been providing customers with high-quality network cabling solutions, with both advanced technology and 35 years of experience, CRXCONEC ensures that each customer's requirements are met.
View our quality products
Lan Cable
,
Termination Plug
,
Modular Plug
,
Keystone Jack
,
Patch Cord
,
Coupler
,
Cable Glands
,
Keystone Panel
,
Crimping Tool
,
Termination Tool
,
Optic Panel
,
Trunk Cable
,
Fiber Optic Adaptor
,
Breakout Cable
,
MTP MPO
and feel free to
Contact Us
.