Do you have waterproof networking solution?
---
15 Dec, 2022
Ingress Protection as known as IP-rating is an international universally accepted measurement published by the International Electrotechnical Commission(IEC) of varying degree standard for dust and liquid resistance. The standard aims to provide users with more detailed information than vague marketing terms such as waterproof. The IP68 products are deemed fit enough to withstand dust, dirt and sand, and are resistant to submersion up to a maximum depth of 1.5 meters of freshwater for up to 1 hour.
The IP68 network products prevent the parts from moisture, dirt, and insects for harsh industrial or outdoor environments and quality connections. These functions ensure that it can be used in sunny or rainy days. Crxconec IP 68 products provide you total solutions to support multiple applications such as military networking, pharmaceutical laboratories or some units that are supposed to work under harsh environments where exposure to liquid or dust outdoor use for long service life.
IP68 Network Application
The structured cabling system is a modular system that can support data, network applications used in commercial buildings or data centers, concert halls, airport, and train stations even the new IoT and smart building indoor or outdoor. Crxconec waterproof copper cords can be used for fixed-length to support 100 MHz frequency to support outdoor antenna or IP cameras. By screw fixing with the waterproof coupler and keystone jacks are designed and manufactured to comply with test requirements. We have whole waterproof series products with UL certified and all our products meet RoHS compliance. We always provide a safe and reliable network environment for users.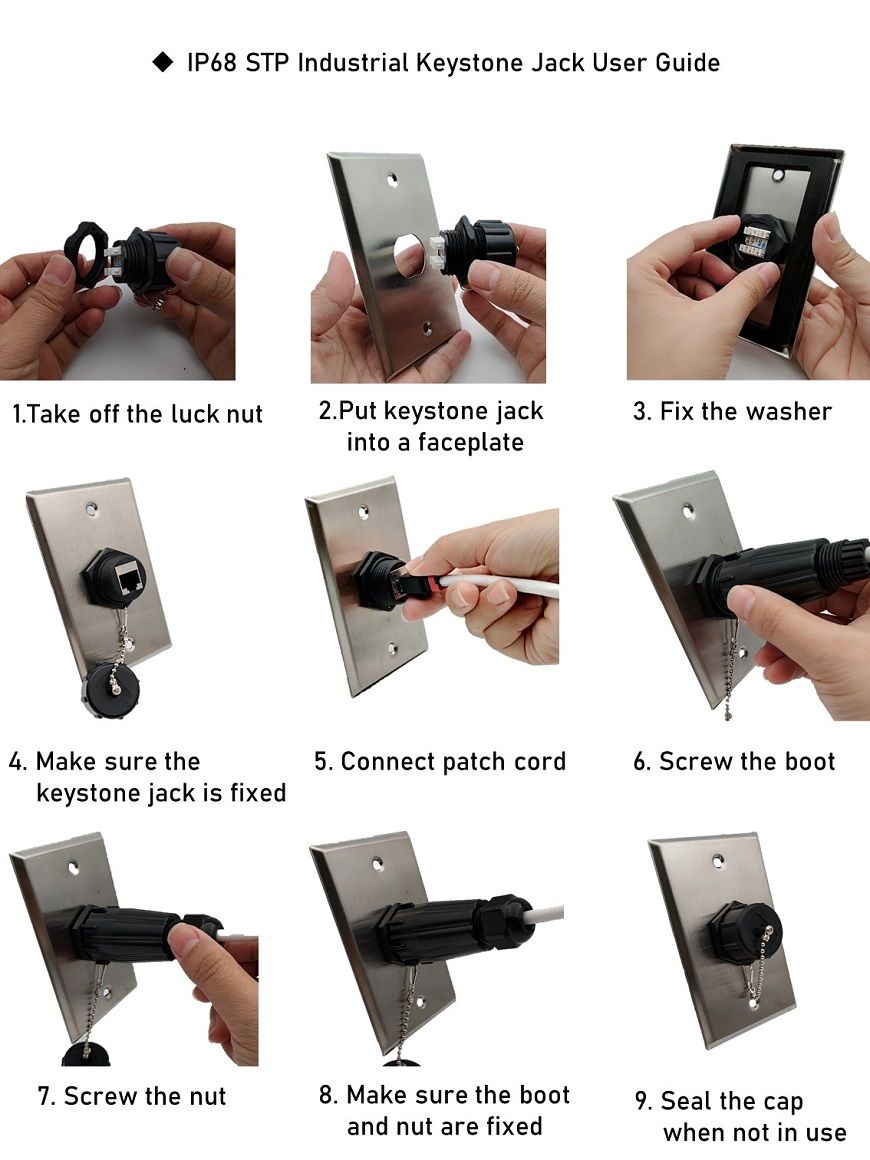 File Download

IP68 Structured Cabling which is defined 4 pairs of individually shielded twisted pairs wrapping in a shield from Cat.6A to Cat.5e.

Download

Related Solutions

IP68 rated waterproof cabling are for outdoor severe wiring system, including shielded Cat6A to Cat5E patch cord, keystone jack and coupler. Furthermore...

Related Products
Catalogue
Complete Cabling Solution

Download
Do you have waterproof networking solution? | End-To-End Copper & Fiber Solutions Provider and Manufacturer | CRXCONEC
Based in Taiwan since 1985, Crxconec Company Ltd. has been a versatile end-to-end copper and fiber solutions provider. Their main high-performance network cabling solutions include, structured cabling, keystone jacks, patch cords, modular connectors and fiber cabling that are either UL certified and or ETL/ Delta/ GHMT verified.
CRXCONEC with more than 30 years of structured cabling manufacturing experience, specializing in custom RJ45 keystone jacks, Ethernet cables, fiber optic cables, fiber patch panels and other cabling products. Fast to assist you in branding end-to-end copper and fiber cabling solutions. Crxconec always have best solutions for you. The copper offerings comprise shielded and un-shielded cables, patch panel, keystone jack, patch cord and accessories. Fiber solutions include cables, patch cord, patch panel, accessories for indoor and outdoor applications.
CRXCONEC has been providing customers with high-quality network cabling solutions, with both advanced technology and 35 years of experience, CRXCONEC ensures that each customer's requirements are met.
View our quality products
Lan Cable
,
Termination Plug
,
Modular Plug
,
Keystone Jack
,
Patch Cord
,
Coupler
,
Cable Glands
,
Keystone Panel
,
Crimping Tool
,
Termination Tool
,
Optic Panel
,
Trunk Cable
,
Fiber Optic Adaptor
,
Breakout Cable
,
MTP MPO
and feel free to
Contact Us
.