A Complete Guide to Structured Cabling
---
15 Jul, 2023
The facts about how SCS benefit for your organization
What is structured cabling system (SCS) ?
SCS is an unknown infrastructure that provides an organized approach to cabling, enabling simple changes to communication networking. ISO/IEC and TIA standards were established for structured cabling in data centers, campuses, smart buildings, and more. Structured cabling systems define a series of subsystems for application design, installation, operation, and maintenance.  The standardization of RJ45 connectors and the performance of copper and optical cabling has greatly simplified the implementation of IT networks.
The elements of SCS
The complete structured cabling can be divided into the following six subsystems in accordance with the North American regional standard ANSI/TIA 568.2-D, the international standard ISO/IEC-11801 and the European regional standard EN50173. Each subsystem provides modularity and flexibility and when linked all together, they can provide a complete and integrated connection.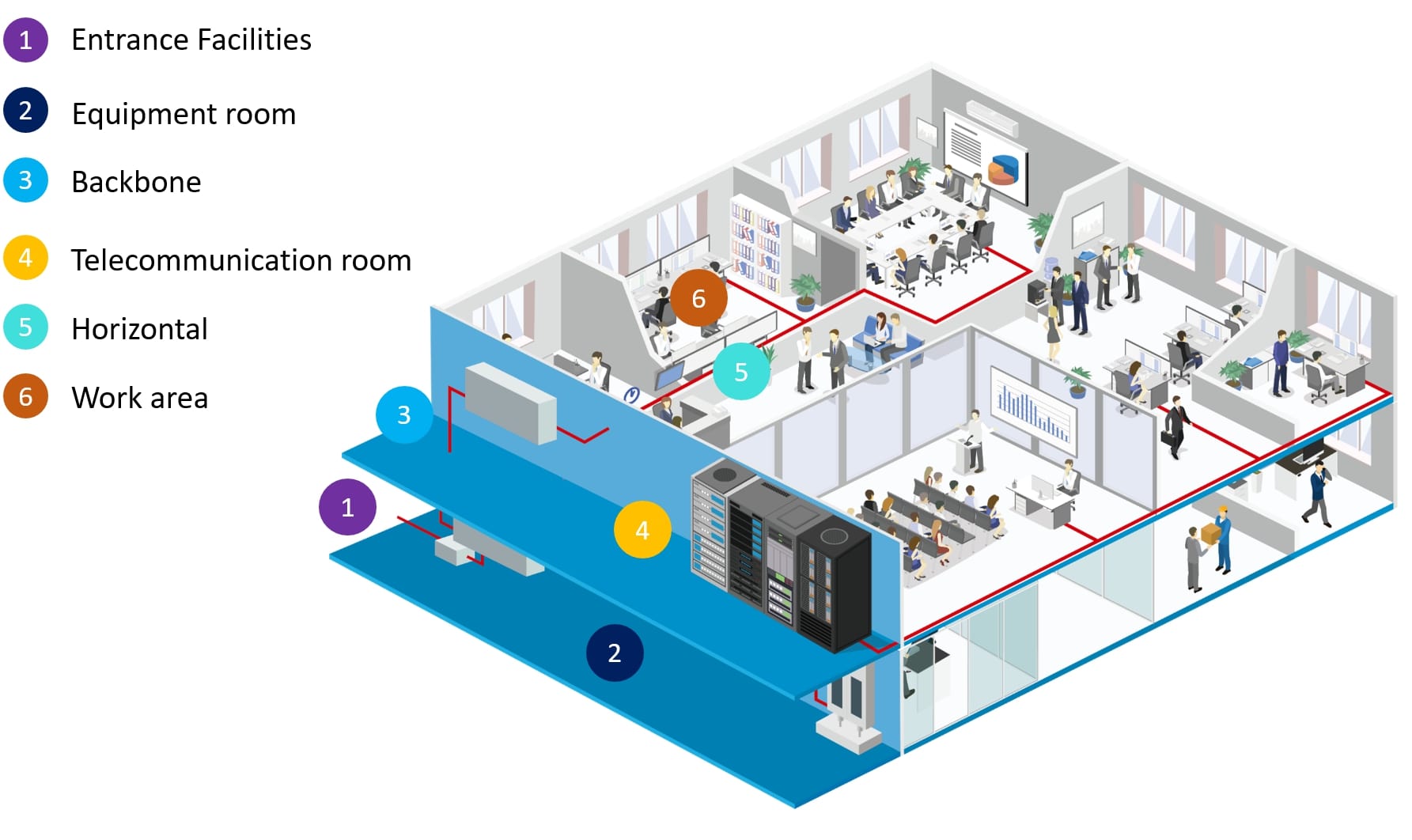 Five Things As Considerations To Design
Smartly plan your structured cabling system that will impact your success for many years to come. The system you plan now should support latest and various applications, including integrating to 40/ 100-GbE system.
Lifespan: Consider how long you want the SCS to serve your facilities.
At minimum planning a lifespan for 10 years, within 15-20 years is suggested by CRXCONEC. Although the cabling only represents 5-8% of the total network budget, it's the most difficult and complex part to replace in the system. Your cabling system should have the longest life cycle to support all channels.
Physical Plant: Consider providing enough space for your facilities.
Before your project runs,  you should check the floor plan properly and how the cable runs in the pathways of facilities. And also keep it in mind to consider unusual physical constraints, such as power lines,  industrial activity and EMI influences, and so on.
Media & Bandwidth: Consider how much you will need in the future.
The type of cables you select depends on your application, architecture, environment, and more. The demand for bandwidth keeps growing, so it's important to consider how much capacity and speed you need now, and how much you might need in the future. Re-cabling is an expensive and challenging proposition.  Therefore, deploying the latest cable supports future updates instead of re-cabling.
Numbers of Users & Usage: Consider how many users will be using your network and how it will be used.
A network arrangement and plan for different facilities are completely different. For example, campus applications rely on indoor and outdoor backbones to transfer data in and out of the buildings, but compared to smart building networking, they only depend on more wireless connections for a flexible growth model. The distance from the network switches to the user's desktop and the internal structure of the backbone are other factors to consider.
Warranties of Supplier: Consider the product warranties offered by your supplier.
Carefully consider any trade-offs between price and performance/maintenance documentation. The lowest-cost cable may not be the most economical long-term choice, especially with the emergence of  40 or 100-Gps in the near future. Additionally, one should be aware of the product's warranty period.
Where do we need the structured cabling products or complete cabling solution? If you want to know more…
Download the file NOW! Get the complete structured cabling guide.
File Download

Guide you to know more about structured cabling and design the cabling system.

Download

Related Solutions
Catalogue
Complete Cabling Solution

Download
A Complete Guide to Structured Cabling | End-To-End Copper & Fiber Solutions Provider and Manufacturer | CRXCONEC
Based in Taiwan since 1985, Crxconec Company Ltd. has been a versatile end-to-end copper and fiber solutions provider. Their main high-performance network cabling solutions include, structured cabling, keystone jacks, patch cords, modular connectors and fiber cabling that are either UL certified and or ETL/ Delta/ GHMT verified.
CRXCONEC with more than 30 years of structured cabling manufacturing experience, specializing in custom RJ45 keystone jacks, Ethernet cables, fiber optic cables, fiber patch panels and other cabling products. Fast to assist you in branding end-to-end copper and fiber cabling solutions. Crxconec always have best solutions for you. The copper offerings comprise shielded and un-shielded cables, patch panel, keystone jack, patch cord and accessories. Fiber solutions include cables, patch cord, patch panel, accessories for indoor and outdoor applications.
CRXCONEC has been providing customers with high-quality network cabling solutions, with both advanced technology and 35 years of experience, CRXCONEC ensures that each customer's requirements are met.
View our quality products
Lan Cable
,
Termination Plug
,
Modular Plug
,
Keystone Jack
,
Patch Cord
,
Coupler
,
Cable Glands
,
Keystone Panel
,
Crimping Tool
,
Termination Tool
,
Optic Panel
,
Trunk Cable
,
Fiber Optic Adaptor
,
Breakout Cable
,
MTP MPO
and feel free to
Contact Us
.