How to Select the Patch Panel for Ethernet Network?
---
15 Aug, 2023
Factors to consider when selecting a patch panel
Termination Style
Patch panels come in two primary termination styles: punch-down and keystone. The punch-down style requires the use of a punch-down tool to terminate the cables, providing a secure and permanent connection. On the other hand, keystone patch panels utilize keystone jacks, allowing for easy cable removal and replacement. They are also referred to as blank or empty panels.
Keystone Patch Panel: Simplifying Cable Management
A keystone patch panel is a modular device that provides a standardized interface for connecting various types of keystone jacks. The term "keystone" refers to the shape of the jack, which comes in different formats such as RJ45 keystone jack, inline coupler, HDMI, and fiber optics, can be easily inserted and removed from the panel. The key advantage of a keystone patch panel is its flexibility. It allows network administrators to mix and match different types of keystone jacks according to their specific requirements. This makes it an ideal solution for environments where cable types and connections may vary. For example, in an office setting, you may need RJ45 jacks for Ethernet connections and HDMI jacks for audiovisual systems. With a keystone patch panel, you can easily accommodate these diverse needs without having to invest in multiple types of fixed panels.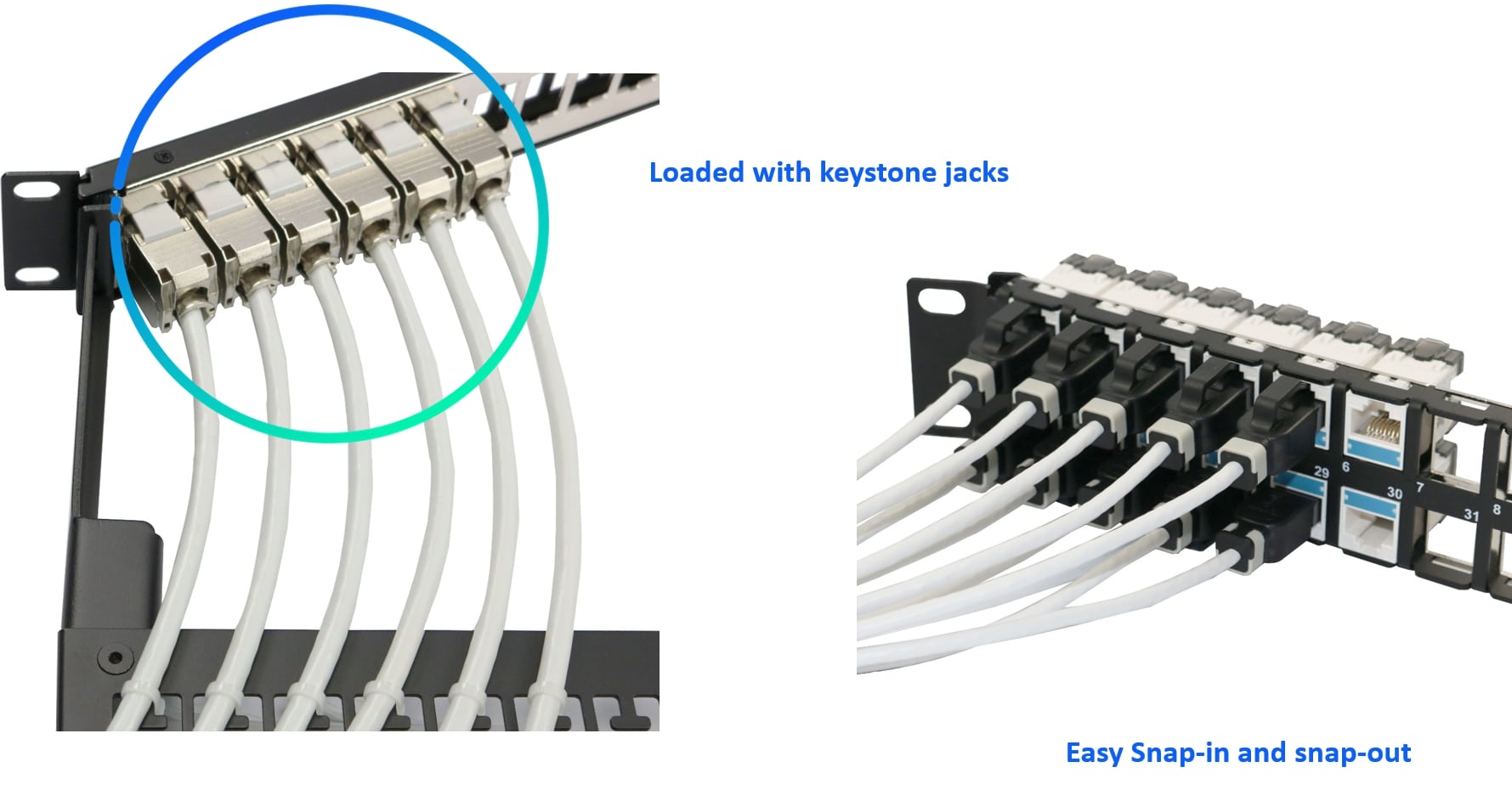 Punch Down Panel: The Reliable Backbone of Network Infrastructure
A punch-down panel, also known as a punch block or 110 block, serves as a permanent termination point for network cables. Unlike keystone patch panels, punch-down panels do not support modular jacks. Instead, they feature a row of metal clips or insulation displacement connectors (IDCs) that provide a secure and long-lasting connection. The name "punch down" comes from the process of terminating cables onto the IDCs. It involves using a specialized tool called a punch-down tool to insert the cable wires into the clips, displace the insulation and establish electrical contact. This method ensures a reliable and sturdy connection that can withstand regular maintenance, such as cable re-termination or troubleshooting. Punch-down panels are commonly used in commercial buildings, data centers, and telecom environments where permanent and robust connections are essential. They provide a neat and organized solution, minimizing the risk of loose or disconnected cables. Additionally, punch-down panels offer excellent signal integrity and can handle high-speed data transmissions.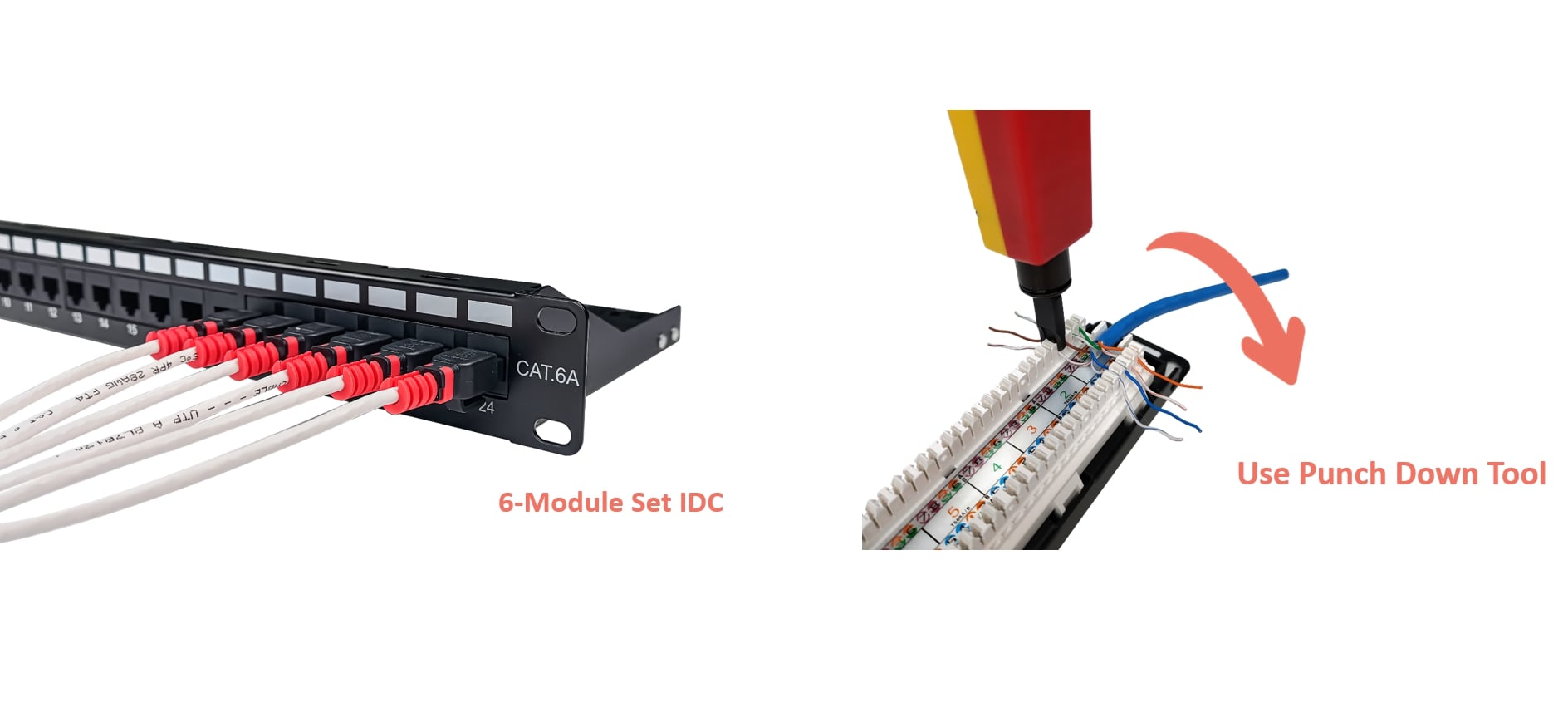 Compatibility and Port Density
Before purchasing a patch panel, ensuring compatibility with your network's requirements is essential. Patch panels come in different types, such as Cat5e, Cat6, and Cat6a, which support different data transfer speeds and frequencies. Analyze the network's current and future needs to determine the appropriate category of the patch panel to invest in. Additionally, consider the port density required for your network. Count the number of devices you need to connect and choose a patch panel that offers enough ports to accommodate them. Including some extra ports for scalability is advisable, allowing room for future network expansion.

Quality and Durability
The quality and durability of a patch panel are vital for maintaining a reliable network connection. Look for patch panels made from high-quality materials such as sturdy metal or robust plastic. These materials ensure longevity and resistance to wear and tear. Moreover, check for industry certifications and standards compliance, such as TIA/EIA and UL certifications. These certifications guarantee that the patch panel meets stringent quality and safety standards.
Unshielded or Shielded
According to interference protection, you should know where to apply your patch panel. UTP cables are not shielded, which makes them more susceptible to external interference from nearby electronic devices or power cables. UTP patch panels offer reliable performance in environments with low interference levels, such as standard office or home environments. In contrast, the additional shielding in STP cables and patch panels plays a crucial role in safeguarding against unwanted electromagnetic and radio frequency interference (EMI and RFI). This makes STP patch panels the perfect choice for installations in environments with elevated levels of interference, such as industrial settings or locations housing heavy electrical equipment. Especially for Cat6A cabling or PoE+ applications.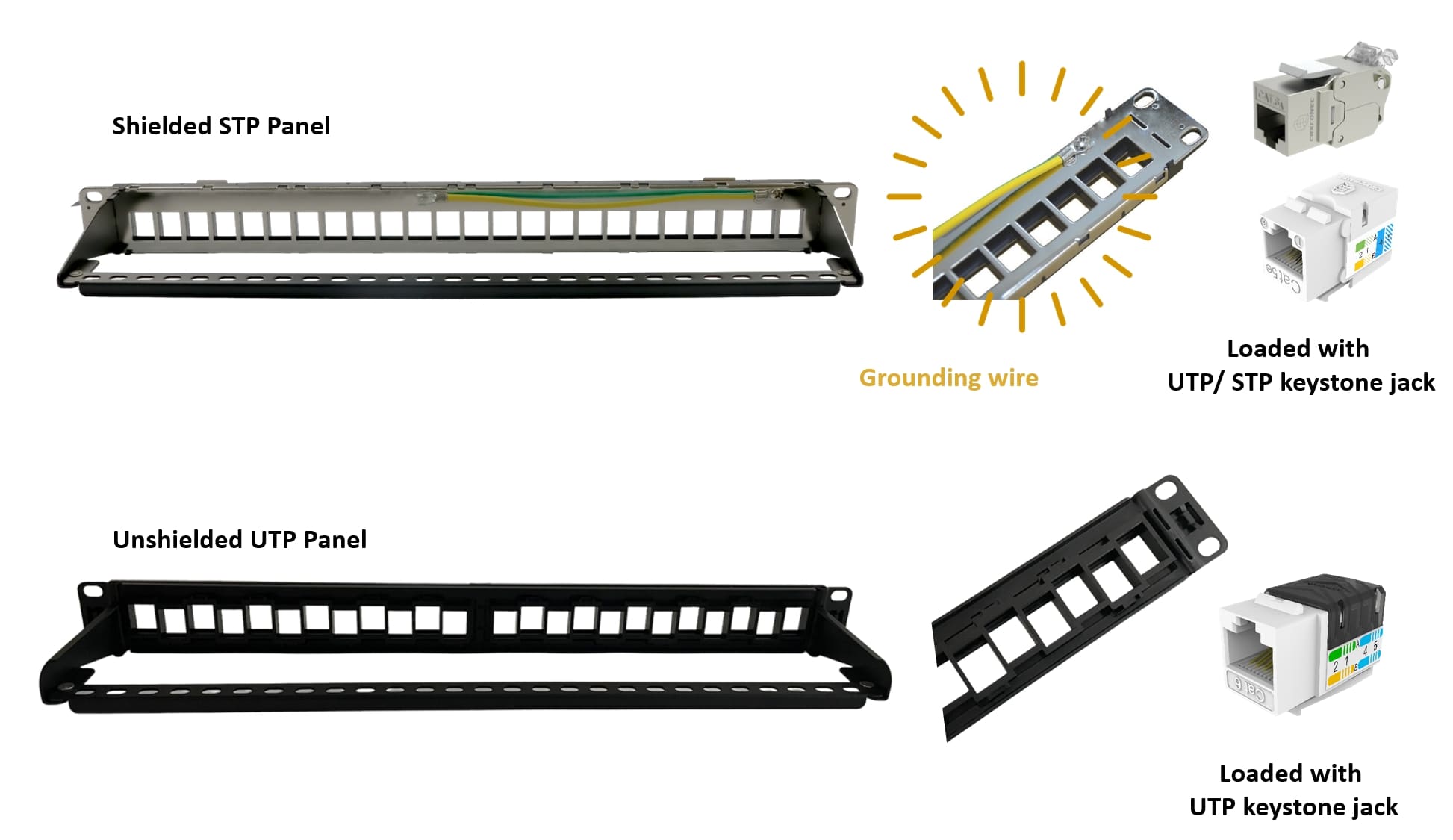 Rack Mount or Wall Mount
Consider the physical space available for installing the patch panel. Patch panels come in rack-mountable and wall-mountable configurations. Rack-mount patch panels are suitable for larger network installations, where multiple patch panels and networking equipment are housed in a server rack. On the other hand, wall-mount patch panels are ideal for smaller networks or when space is limited. These panels can be easily mounted on a wall, providing a compact and convenient solution.

Cable Management
Efficient cable management is crucial for maintaining an organized and tidy network environment. Look for patch panels that offer built-in cable management features, such as cable routing slots, cable ties, and labeling options. These features simplify cable management tasks, making identifying and tracing connections easier when needed. Proper cable management not only enhances the aesthetics of your network setup but also improves airflow, reduces the risk of cable damage, and facilitates troubleshooting and maintenance.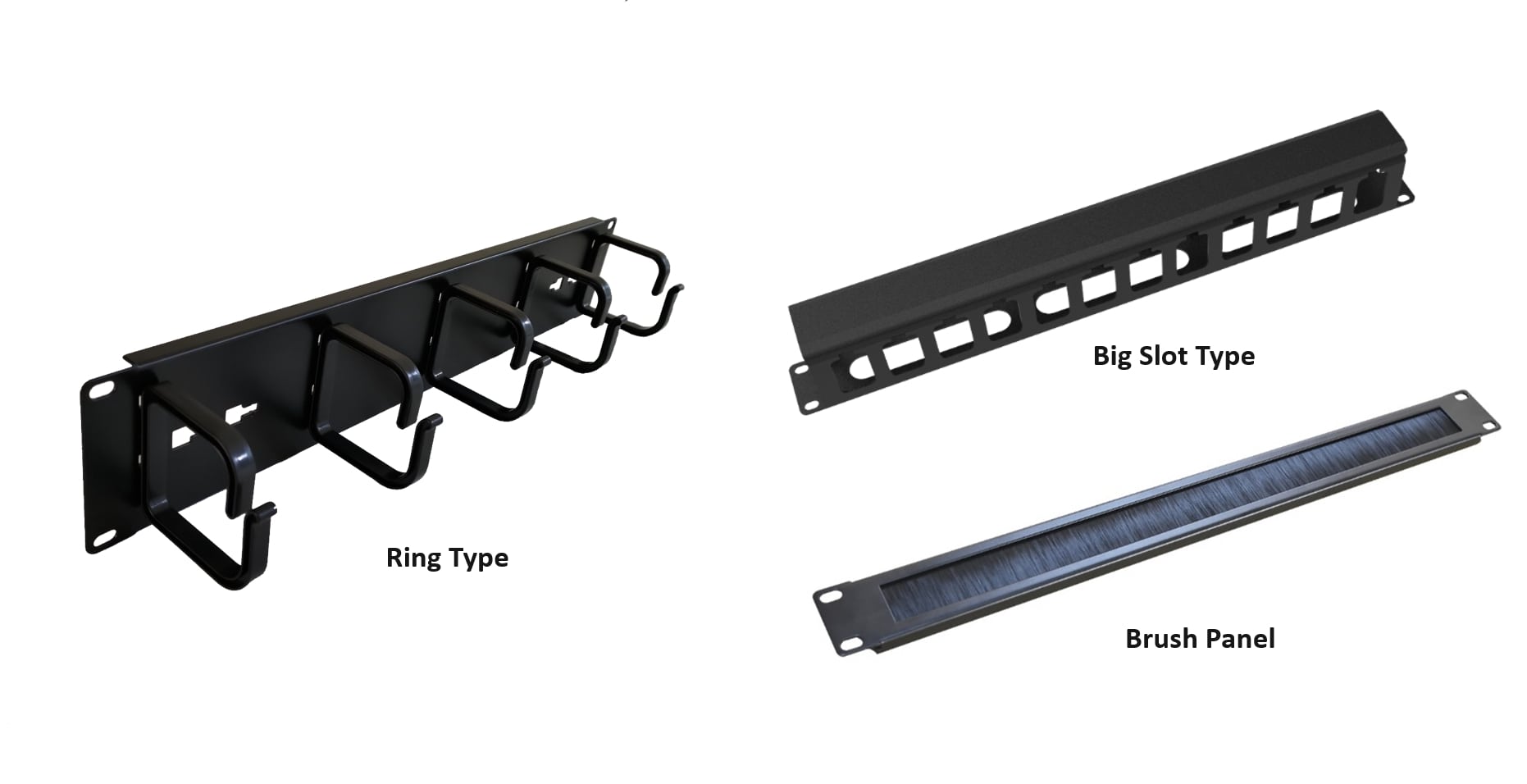 Download the file NOW! Get the complete patch panel selection guide.
File Download

It's a complete guidebook for patch panel selection.

Download

Related Solutions

Two types of patch panel, one is with modular; another is with empty port. Users can choose modular panel or empty panel with keystone jack according to different...

Related Products

PN.CC-06-00001

The new unloaded blank UTP / FTP dual keystone panel can offer 1U 24 ports with oversized clear red and white paper labeling identification enables quick...

Details

PN.CC-07-00023

CAT6A 90-degree fully loaded rackmount patch panel is designed to be used within the 10GX network system, supporting 500Mhz. The shielded housing of the patch...

Details
Catalogue
Complete Cabling Solution

Download
How to Select the Patch Panel for Ethernet Network? | End-To-End Copper & Fiber Solutions Provider and Manufacturer | CRXCONEC
Based in Taiwan since 1985, Crxconec Company Ltd. has been a versatile end-to-end copper and fiber solutions provider. Their main high-performance network cabling solutions include, structured cabling, keystone jacks, patch cords, modular connectors and fiber cabling that are either UL certified and or ETL/ Delta/ GHMT verified.
CRXCONEC with more than 30 years of structured cabling manufacturing experience, specializing in custom RJ45 keystone jacks, Ethernet cables, fiber optic cables, fiber patch panels and other cabling products. Fast to assist you in branding end-to-end copper and fiber cabling solutions. Crxconec always have best solutions for you. The copper offerings comprise shielded and un-shielded cables, patch panel, keystone jack, patch cord and accessories. Fiber solutions include cables, patch cord, patch panel, accessories for indoor and outdoor applications.
CRXCONEC has been providing customers with high-quality network cabling solutions, with both advanced technology and 35 years of experience, CRXCONEC ensures that each customer's requirements are met.
View our quality products
Lan Cable
,
Termination Plug
,
Modular Plug
,
Keystone Jack
,
Patch Cord
,
Coupler
,
Cable Glands
,
Keystone Panel
,
Crimping Tool
,
Termination Tool
,
Optic Panel
,
Trunk Cable
,
Fiber Optic Adaptor
,
Breakout Cable
,
MTP MPO
and feel free to
Contact Us
.