OM3 LC LED Trackable Fiber Patch Cable
OM3 LC Duplex Fiber Jumper
Do you always spend a lot of time in the telecommunication room to find the connection point of the fiber optical cable on fiber panel? Or do you always find it difficult to unplug the optical cord? Then our new OM3 LC fiber patch cable is your best choice! The new launched LC Duplex LED fiber cord has a built-in LED light, so you can easily find the fiber patch lead you are looking for by using an external power bank and a Micro USB cable. Better yet, we have combined the patented tab design on OFC patch cord that allows you to easily unplug and the fiber optical jumper, making your maintenance easier!
Highlights
Low profile boot shape optimizes side-stackability.
Clear identification with polarity A and B.
Particular housing design eliminates potential connector and cable damage.
Reduce cable pathway congestion.
Simplifies cable management.
For high density data center application.
Can be disengaged easily and fast.
We are glad to present our latest design "Rel-Easy" for Multi Mode OM3 application. Which means you can release the extractor very easily. In high-density scenarios, The LEDs on both ends flash for identification to solve the search troubles. The extractor uses concave design to saves space and releases by lever principle, also with special design to change A/B polarity in seconds.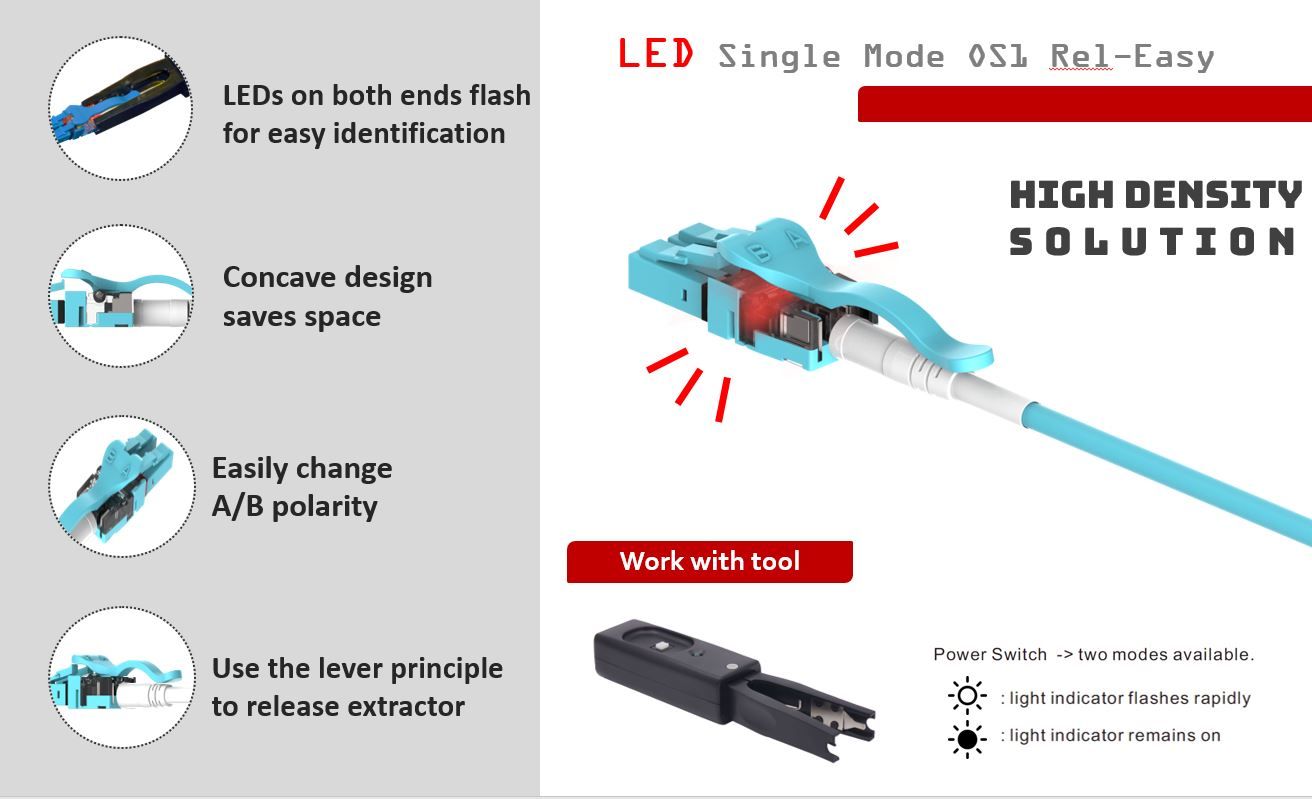 OM3 LED Fiber optic patch cord-installation
Our Fiber optic LED Patch Cord, use the powerbank with our tracking tool, and you can track with your fibre patch cord from end to end.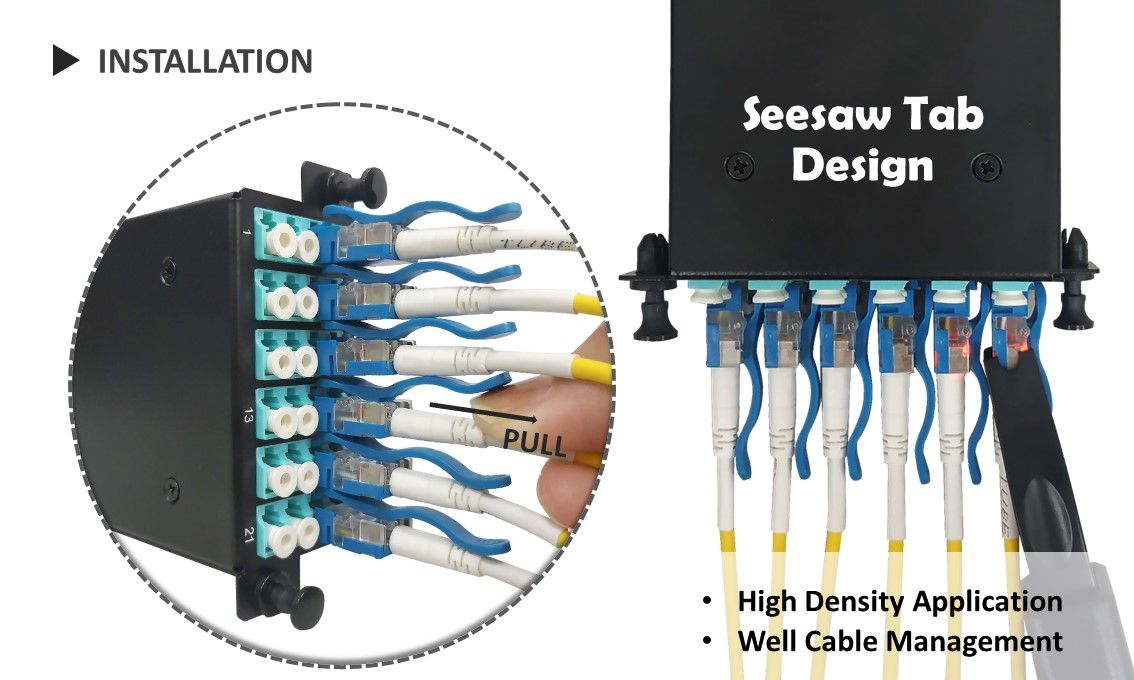 The user guide of LC Duplex LED fiber patch cord
With the patented tab design, users can take off the fiber jumper from the high-density panel easily, and the fiber optic jumper also supports polarity change.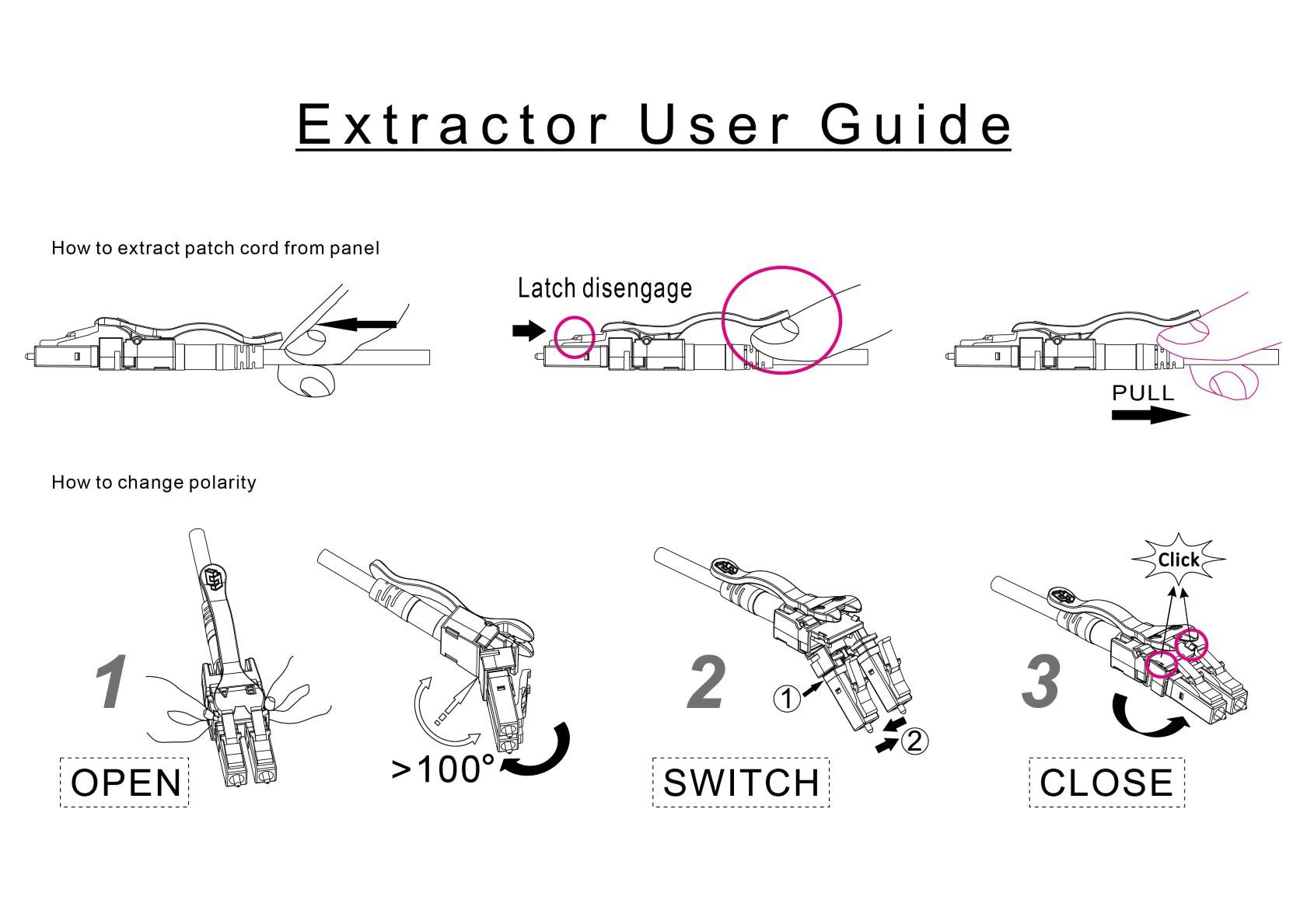 Application
TYPE of Cabling
Product Name
Fiber Cable Specs
Fiber Mode
Fiber Cable Type
Fiber Connector
Fiber cores
Purchase

| | |
| --- | --- |
| Price Term | FOB Ningbo or EXW Dongguan |
| Payment Term | T/T, credit card, or pay pal |
| Lead Time | 4 weeks after order confirmation |

Video

Hot to track fiber jumper in data center

Fiber featured Patch Cords for High-density solution

Related

Crxconec, a great fiber patch cord supplier, launched new OM4 fiber patch cord LC to LC. The fiber...

Details

FC-01-00068

An indutry standard for LGX 3 port format fiber panel is comprised of MF sliding optical panel...

Details

The LED light was added to the OM5 fiber patch cord LC to LC with a patented see-saw tab to help...

Details

File

FAQ

Optical fiber is one of the most common methods of transmitting light signals and widely used in internet communication. The light travels to the core,...

Yes, we are free to provide free structured cabling samples for customer. A product sample is the direct way to know more information about cabling product...
Catalogue
Find more detail for product specs.

Download
OM3 LC LED Trackable Fiber Patch Cable | End-To-End Copper and Fiber Solutions | CRXCONEC
Based in Taiwan, Crxconec Company Ltd., since 1985, is a versatile end-to-end copper and fiber solutions provider. The structured cabling products, server racks, and IT management accessories have already been implanted into the world-class data center and modern commercial buildings for decades.
UL certified, and ETL, Delta and GHMT verified with advanced QC center, CRXCONEC delivers total copper and fiber solutions for your indoor and outdoor applications. The product including Structured Cabling, Keystone Jack, Patch Cord, Modular Plug, Fiber Cabling, etc.
CRXCONEC has been offering customers high-quality structured cabling and Keystone Jacks, both with advanced technology and 35 years of experience, CRXCONEC ensures each customer's demands are met.
View our quality products
Lan Cable
,
Termination Plug
,
Modular Plug
,
Keystone Jack
,
Patch Cord
,
Coupler
,
Cable Glands
,
Keystone Panel
,
Crimping Tool
,
Termination Tool
,
Optic Panel
,
Trunk Cable
,
Fiber Optic Adaptor
,
Fiber Optic Pigtail
,
Breakout Cable
,
Fiber Array Cable
and feel free to
Contact Us
.