Patented:Rotatable Clips Patch Cord
---
01 Sep, 2020
Have you ever prepared a lot of inventory for wires of different colors? Do you need to change patch cords of different colors because of changes in personnel seats or departments?
IT technician will use color management to mark different floors or the LAN ports of different departments in cabling. It will not cause troubles to IT personnel in the early stage of wiring and even it is easier for facilitate management. But when the time for move and changes comes, how to change the color management without affecting the connection will be a problem. To solve this problem, we added the characteristics of Tetris into the patch cord design in the early stage. After continuous discussion and improvement, we have the first draft of it. Limited by the internal structure, we introduced the patch cord with Cat.6 28AWG and cat.6a 30AWG ultra-thin cables only.
Patented Cat.6A Patch Cord With Rotatable Color Clips
This patented Ethernet patch cord let users to manage different application by color without unplugging patch cable. By simply rotating the color ring of the patch cord, you can mark it with different color and solve your problem in one second. There is no need to prepare redundant jumpers to replace, which is very convenient for IT personnel.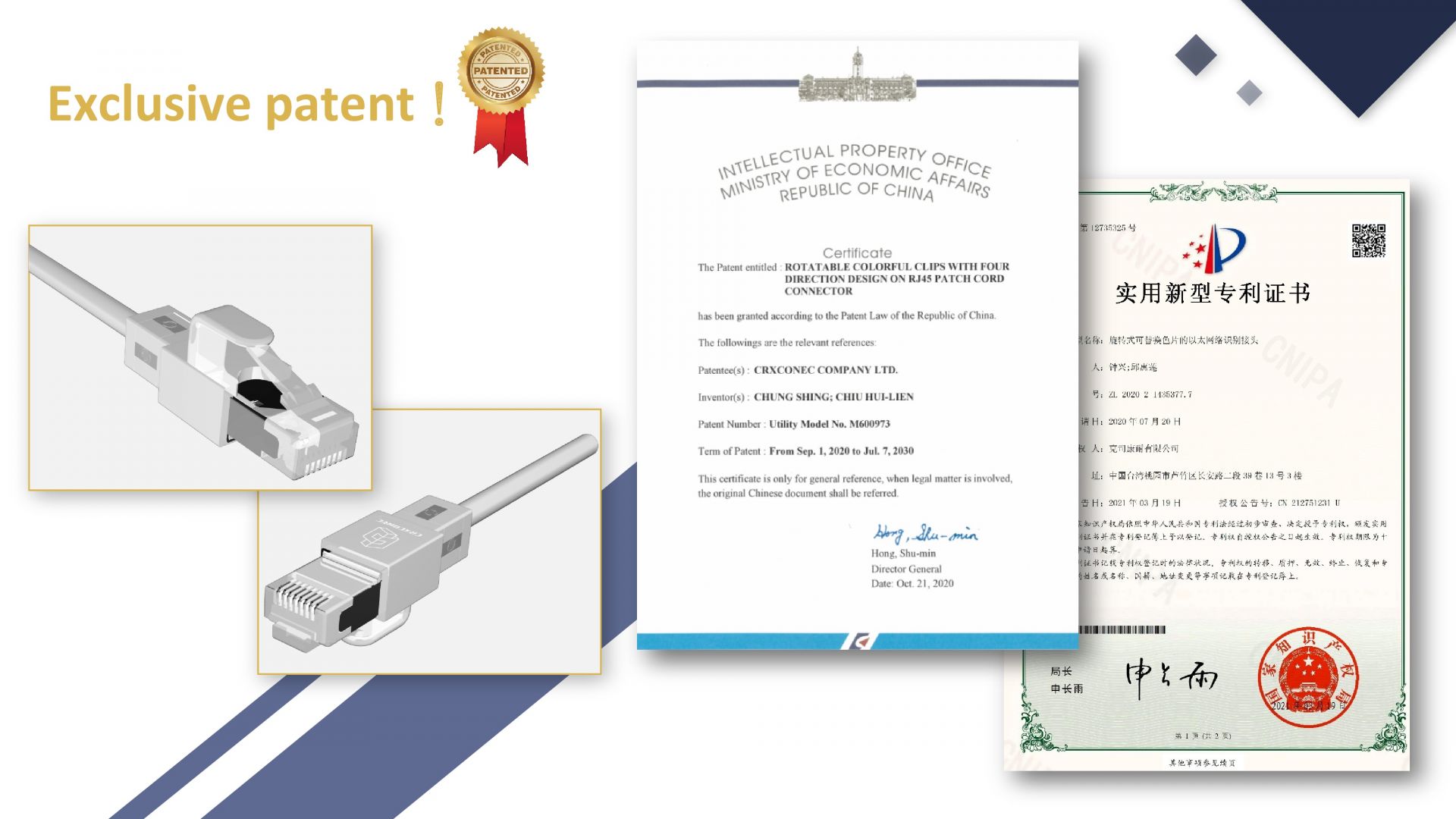 Start with easy way for cabling and explore more information about patented Tetris patch cord,contact us now!
File Download

Get More Details In Our Designer Ideas On Rotatable Patch Cord

Download

Hot Sale Products

PN.6A-SS-28-BK-0100-09

Crxconec camp up with the new Cat6a slim patch cables solution with rotatable colored clips. With the new design, users can manage the application by color...

Details
Catalogue
Find more detail for product specs.

Download
34 Years Versatile End-To-End Copper And Fiber Solutions | CRXCONEC
Based in Taiwan, Crxconec Company Ltd., since 1985, is a versatile end-to-end copper and fiber solutions provider. The structured cabling products, server racks, and IT management accessories have already been implanted into the world-class data center and modern commercial buildings for decades.
UL certified, and ETL, Delta and GHMT verified with advanced QC center, CRXCONEC delivers total copper and fiber solutions for your indoor and outdoor applications. The product including Structured Cabling, Keystone Jack, Patch Cord, Modular Plug, Fiber Cabling, etc.
CRXCONEC has been offering customers high-quality structured cabling and Keystone Jacks, both with advanced technology and 35 years of experience, CRXCONEC ensures each customer's demands are met.
View our quality products
Lan Cable
,
Termination Plug
,
Modular Plug
,
Keystone Jack
,
Patch Cord
,
Coupler
,
Cable Glands
,
Keystone Panel
,
Crimping Tool
,
Termination Tool
,
Optic Panel
,
Trunk Cable
,
Fiber Optic Adaptor
,
Fiber Optic Pigtail
,
Breakout Cable
,
Fiber Array Cable
and feel free to
Contact Us
.