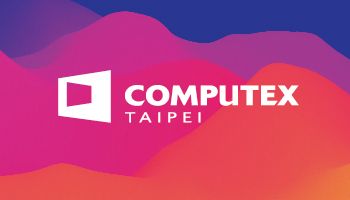 CRXCONEC at COMPUTEX Taipei 2021
---
31 May, 2021
COMPUTEX TAIPEI is the largest annual computer exhibition and trade show in Asia. Each year, technology industry leaders gather to make announcements and launch new products.
CRXCONEC will have an exhibition presence at COMPUTEX cyberworld 2021 virtual event in May 31. We are currently working on product demonstration to virtual exhibition. If you are looking for different cables brad to supply, there are various latest products launched at COMPUTEX virtual exhibition for copper and fiber cabling solution.
The quality of your telecommunication has a direct impact on the success of your business. Start with ease and join the party with us.
File Download

Our innovative cabling product demonstration at COMPUTEX

Download

Hot Sale Products

PN.6A-SS-28-BK-0100-09

CRXCONEC camp up with the new Cat6a slim patch cables solution with rotatable colored clips. With the new design, users can manage the application by color...

Details

PN.6A-SS-27-BK-0100-29

CRXCONEC released the latest antibacterial network jumper in order to make homes and workplaces safer and more hygienic. The antibacterial ingredients...

Details

PN.6A-SS-08-GY-0100-05

The New Cat.6A Shielded Rj45 Patch Cable with LED light design, you could trace the cable path easily by pressing the bottom. Moreover, there is no additional...

Details
Catalogue
Complete Cabling Solution

Download
34 Years Versatile End-To-End Copper And Fiber Solutions | CRXCONEC
Based in Taiwan, Crxconec Company Ltd., since 1985, is a versatile end-to-end copper and fiber solutions provider. The structured cabling products, server racks, and IT management accessories have already been implanted into the world-class data center and modern commercial buildings for decades.
UL certified, and ETL, Delta and GHMT verified with advanced QC center, CRXCONEC delivers total copper and fiber solutions for your indoor and outdoor applications. The product including Structured Cabling, Keystone Jack, Patch Cord, Modular Plug, Fiber Cabling, etc.
CRXCONEC has been offering customers high-quality structured cabling and Keystone Jacks, both with advanced technology and 35 years of experience, CRXCONEC ensures each customer's demands are met.
View our quality products
Lan Cable
,
Termination Plug
,
Modular Plug
,
Keystone Jack
,
Patch Cord
,
Coupler
,
Cable Glands
,
Keystone Panel
,
Crimping Tool
,
Termination Tool
,
Optic Panel
,
Trunk Cable
,
Fiber Optic Adaptor
,
Fiber Optic Pigtail
,
Breakout Cable
,
Fiber Array Cable
and feel free to
Contact Us
.