What is a Cat8 Ethernet Cable and the Application?
Category 8 cable, the standard for next-generation twisted-pair cabling specifications, will allow you to transport data up to four times faster than Category 6A cabling already being used. It is an Ethernet cable which differs greatly from the previous cables in that it supports a frequency of up to 2 GHz, and is limited to a 30-meter 2-connector channel. As you can expect CAT 8 provides better frequency characteristics, therefore supporting higher speeds of data. While Cat8 cable requires shielded cabling as well.
Also, for now, Cat 8 cabling systems will be limited to the access layer in data center networks. For data center managers, Cat 8 offers some huge benefits. When planning for networks greater than 10 Gb/s in the access layer, the decision of which cable type to use largely depends on the network topology you prefer: Top-of-Rack (ToR), End-of-Row (EoR), or Middle-ofRow (MoR). Cat 8 will be able to support all of these topologies. Cat.8 wiring scheme will be mainly used in the data center. So when building a new data center, it is recommended to use CAT.8 structured cabling to meet updates and higher bandwidth in the future.
Category 8 Standard
Category 8 is the same cabling system as prior categories; it is simply made to perform at the much higher bandwidth. Compare to other categories you can expect CAT 8 to provide better frequency characteristics, therefore supporting higher speeds of data. Cat8 can also support 25Gbps/40Gbs speeds. The physical appearance of CAT 8 cable is similar to lower category cables and still terminated in RJ45 connections. For comparing different category Cabling Standards, we can see the table below.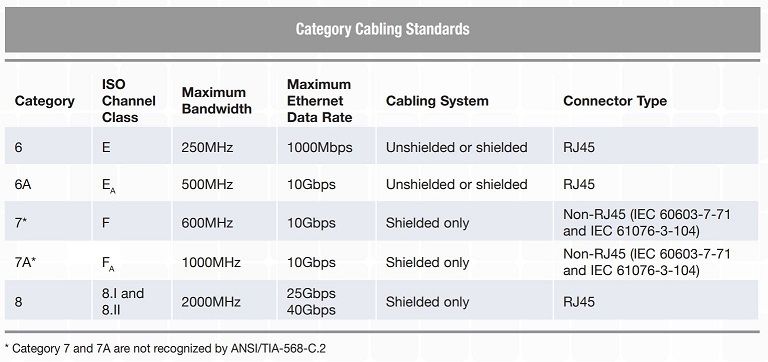 In Category 8, We also have 22AWG cable which meets POE and suitable for far distance 4k audio transmission. Most importantly, Category 8 will provide faster data transmission-up to four times than Category 6A. Another good reason to apply Category 8 cable is cost savings. Twisted pair copper cabling has always been the most cost-effective way to deploy a given Ethernet speed due to the low cost of the copper channel.
Category 8 Channel Configuration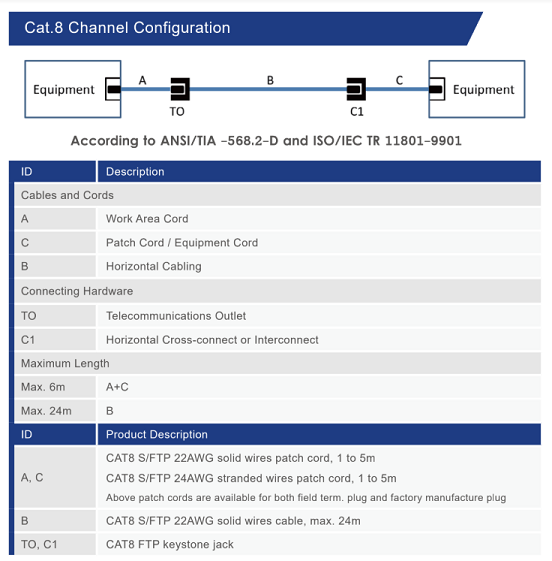 Related Products

CC-01-90001

CRXCONEC new cat 8 RJ45 field termination connectors for telecom applications bring you a new prospect...

Details

CC-04-00031

Crxconec Category 8 keystone jacks support the high frequency up to 2GHz, it is 4 times bandwith...

Details

C8-SS-lan-cable

Per ANSI / TIA-568.2-D standard, it provides a new standard for the Category 8 network cabling...

Details